---
President Trump has reportedly ordered the expulsion of 60 Russians from the United States on Monday, including 12 people identified as Russian intelligence officers who have been stationed at the United Nations in New York, in response to Russia's alleged poisoning of a former Russian spy in Britain.
As The New York Times reports, the expulsion order, announced by administration officials, also closes the Russian consulate in Seattle.
The Russians and their families have seven days to leave the United States, according to officials.

The expulsions are the toughest action taken against the Kremlin by President Trump, who has been criticized for not being firm enough with President Vladimir V. Putin of Russia.

In a call with reporters, senior White House officials said that the move was to root out Russians actively engaging in intelligence operations against the country, and to show that the United States would stand with NATO allies.

The officials said that the closure of the consulate in Seattle was ordered because of its proximity to a U.S. naval base.
Worst. Putin Puppet. Ever.
The expulsion of 60 diplomats is the most sweeping since the Reagan administration ordered 55 diplomats out of the country in 1986.
As The Washington Post reports, a senior administration official, who was only authorized to discuss the actions on the condition of anonymity, commented:
"This was a reckless attempt by the government to murder a British citizens and his daughter on British soil with a nerve agent,"

"It cannot go unanswered."
The actions, which could prompt retaliatory strikes against U.S. diplomats in Russia, come in contrast to President Trump's efforts to foster a warm relationship with Russian President Vladimir Putin. In a phone call to Putin last week, Trump rejected the counsel of his national security advisers and congratulated Putin on his reelection victory.
Deep State 1 - 0 Trump.
"To the Russian government, we say, when you attack our friend you will face serious consequences," said a senior administration official.

"As we have continually stressed to Moscow, the door to dialogue is open." But, this official continued, Russia must "cease its recklessly aggressive behavior."
Last week EU leaders declared in a statement that it was "highly likely" there was "no plausible alternative explanation" other than Russia being to blame.
Today, EU Council President Tusk  announces that 14 EU nations will expel Russian diplomats...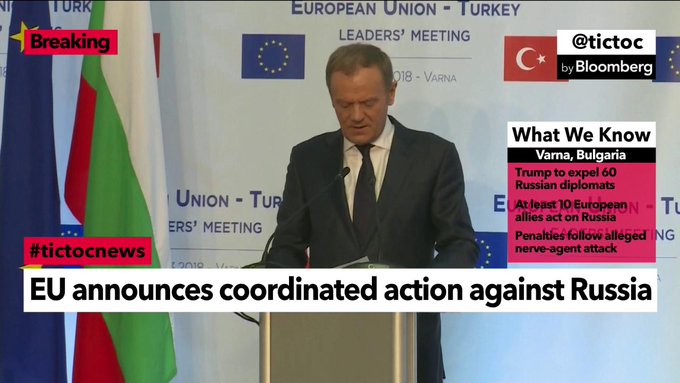 EU Council President Donald Tusk says that 14 EU countries have decided to expel Russian diplomats #tictocnews
So far today, the number of Russian diplomats being expelled:
US - 60

Ukraine - 13

France - 4

Germany - 4

Poland - 4

Lithuania - 3

Czech Republic - 3

Holland - 2

Denmark - 2

Italy - 2

Latvia - 1

Estonia - 1
And follows Britain's expulsion of 23 Russian diplomats last week.
*  *  *
Russia Says EU Shows 'Perverted' U.K. Solidarity
The Kremlin is not impressed with the EU. The countries planning to expel Russian diplomats in support of the U.K. are "like loyal subjects giving political support to London," Russian Foreign Ministry spokeswoman Maria Zakharova said on Facebook.
Russia Warns of Tit-for-Tat Retaliation
Russia warned that it won't take any expulsions lying down. The Kremlin hasn't had any official information on reported U.S. plans to expel diplomats and will act reciprocally if such actions take place, Vladimir Putin's spokesman told reporters on a conference call.
*  *  *
President Trump is expected to make an announcement on the expulsions at 3pmET.
For now the Ruble is the most affected...
---