NATO Infighting in Syria: US Special Forces Protect Kurds From Turkish-Backed Fanatics
By RI Staff on Tuesday, February 28, 2017 - 10:05
U.S. Special Forces have arrived in the Manbij countryside to enforce a "Demarcation Line" in northern Syria and protect Kurdish fighters from Turkish-backed "moderates".
The American military has been active in this region of Syria for quite some time.
They're pretty open about it, actually:
The reason for the demarcation line? Most likely to protect Kurdish SDF forces from Turkish-backed "moderate" rebels:
The [U.S.] training announcements comes on the back of Turkish-backed militants confirming that would try capture Manbij after the al-Bab operations from the Syrian Democratic Forces, who comprise mostly of the Kurdish YPG militia.

In speaking with ARA News on Wednesday, the US-led coalition revealed that their forces will continue to support the Manbij Military Council, despite the threats from their NATO ally, Turkey.

"While we will not discuss the precise locations of US Special Operations forces, US Special Forces do continue their advise, assist and accompany mission with the Syrian Democratic Forces across northern Syria," Colonel Joseph Scrocca, U.S. Army, CJTF-OIR Public Affairs Director told ARA News.
If genuine, this photograph suggest that the U.S. is not being discreet. Washington is sending a clear message to Ankara:
A map showing where Manbij is situated: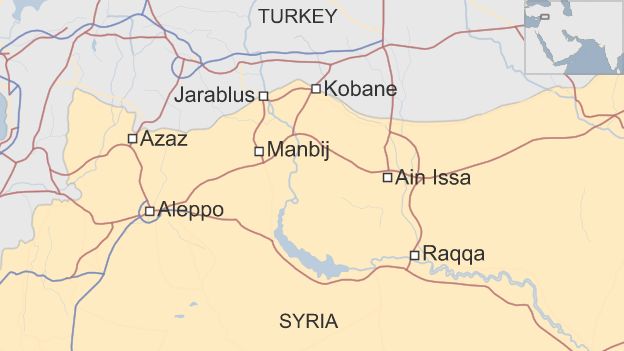 So just to recap: The United States is now protecting the Kurds from "moderate" rebels backed by a NATO member. Cool "defensive" alliance, right?