"Look: the fortress walls are THAT thick! It's easy to imagine what life was like here in times of war and peace.
This article from our archives was first published on RI in December 2017
---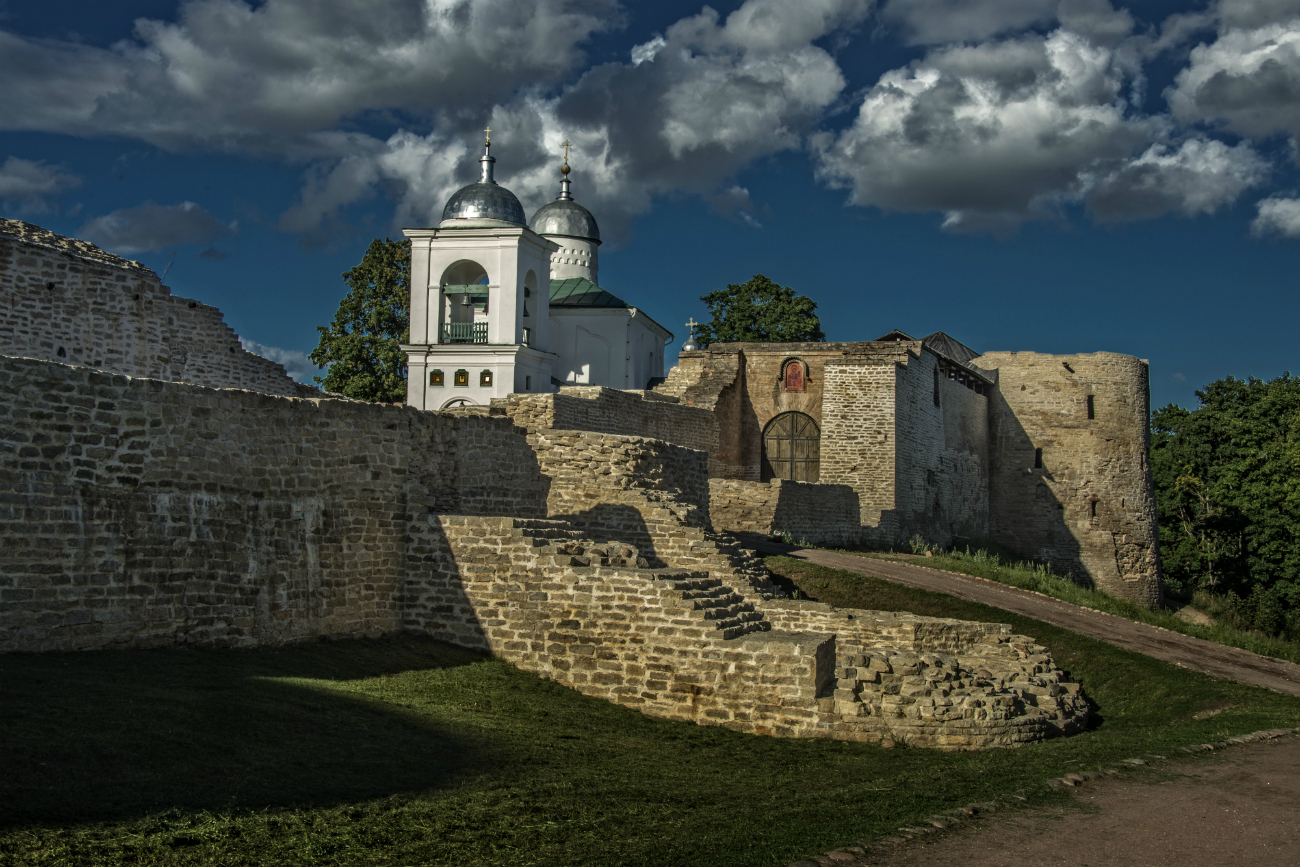 This scenic place was formerly a first-line frontier defense city.
---
This is the very first installment to embark on an Instagram journey through the vastness of Russia — why don't you join us? An ancient fortress with walls several meters thick, ostriches roaming the wooded flatlands and a pagan sacred site: see all this and more!
This time we are visiting Izborsk (or Old Izborsk, as the locals call it), 455 miles north-west of Moscow, just near the Russian-Estonian border: it was once a bustling city on the very first line of the North-West frontier defense repeatedly besieged by the Livonian Order and other daring invaders, never succeeding in direct combat.
Now it is a village, not a city, and you can hardly imagine a more peaceful or picturesque place.
Surroundings
Photo: @lottusik via Instagram
---
The heart of the ancient city was Izborsk Fortress, now the village's main tourist attraction. This strong fortification dates from the 14th century, built near the site of an earlier one. Even now, the six still-standing towers are evidence of the fortress's defensive power
.
Photo: @soldatova_anna via Instagram
---
This is how the village looked just a century ago. Now the carefully restored houses mark the beginning of the tourist area of Izborsk. Look at the pavement: it's the real ancient one, also restored.
Photo: @andre_zlatocvet via Instagram
---
This exquisite natural beauty is called Slovenskiye Springs, more than a thousand years old. Just think, the clear water sprays are more ancient than the time-worn stone walls! Since ancient times, the springs have had sacral significance, being first a pagan site and then bearing the second name of The Springs of the Twelve Apostles.
Photo: @fuls_photo via Instagram
---
The Slovenskiye Springs make their way to Lake Gorodishchenskoye, a habitat for ducks and graceful swans. An ancient legend has it that these swans have never left the lake, and as long as they remain there Izborsk will never fall. Since both the swans and the village (and even the fortress) are present, the legend is definitely true!
Photo: @poisson_d_avril via Instagram
---
This tiny chapel was founded not far from Izborsk in the name of the Derzhavnaya Icon of the Mother of God. Although it seems as ancient as any Izborsk church, it dates from 2012. The Poklonnyi (Worshipful Submission) Cross nearby commemorates all the victories of the Russian military and all the fallen Russian warriors; its basement (called The Holy Hill of the Unity and Glory of Russia) consists of earth from all the places of Russian military glory.
Photo: @kolpigina via Instagram
---
...And when military victories are won and the battles stop thundering, this is what the Izborsk vicinity looks like. Perfect beauty and tranquility. Time seems to stop flowing here, and calm pervades the soul.
Photo: @margo_ivanovaaaa via Instagram
---
But did you ever imagine that this land is home to… ostriches? That's right. Not only can you give them a stroke, but also try fried ostrich eggs! Well, probably one egg — because of its size.
People
Photo: @tiapkinandrei via Instagram
---
The cheapest way to spend your time in Izborsk: bring a tent! But mind the weather: the North-West region of Russia isn't renowned for its mild climate.
Photo: @nw_wind via Instagram
---
Although Izborsk and its surroundings are among the most peaceful places in the world, there's still room for the adrenalin rush! The scenic nature contributes to that even more.
Photo: @deinochka via Instagram
---
This is how a typical ancient Izborian domestic goddess used to spend her time in days gone by: at the stove. Of course, it happened only when all the house duties were done and dusted, so to speak, i.e. pretty much never.
Photo: @mr.lawey via Instagram
---
Don't be alarmed, these guys are our contemporaries. But what could be a better place to bring the past back to life than an ancient fortress? By the way, Izborsk hosts a few re-enactment festivals every year: a great chance to imagine ancient life, warts and all.
Photo: @ian.vasilev via Instagram
---
Need a lift? :) Frankly speaking, you won't need one here in Izborsk: ancient cities, even the most powerful ones, are not really large by modern standards. Everything is easily reached on foot.
Closeups
Photo: @skalka_ via Instagram
---
This is definitely the cutest and probably the most surprising side of Izborsk: it's a cat-loving city! Cats can be seen everywhere (this one is nestled right in the fortress), plus they're nice-looking and well-fed. And they have no fear of human beings, so please don't exploit that.
Photo: @kelmberg via Instagram
---
An ancient custom for an ancient city: these lanterns were in use decades ago, but seem to fit these houses perfectly.
Photo: @molibobr via Instagram
---
...The forward march of progress. Like it or not the technological revolution is seemingly unstoppable.
Photo: @rusulsk via Instagram
---
One more part of the legacy of the past: this cross is named after Truvor, a legendary Varangian (Viking), brother to Rurik, who made Truvor prince of Izborsk. True or not, Truvor is a popular character of many legends and tales told to tourists here, although this particular cross might have nothing to do with Truvor: it dates from the 14th-15th century, while the legendary prince died in 864, according to the annals.
Photo: @irina.gvozdeva1 via Instagram
---
Nothing extraordinary, just clay pots decorating a palisade. Well, ok, it might be a good way to dry them, but they have ornamental value, too!
Photo: @kuzianl via Instagram
---
Look: the fortress walls are THAT thick! It's easy to imagine what life was like here in times of war and peace.
But why don't you reply to the invitation and see for yourself?
---
Source: Russia Beyond the Headlines
---